You can think of Soundfile 1.13 as a function that begins life as a sine function, f(x) = sin(x), and then over time morphs into a really fast oscillating sine function, like f(x) = sin(20,000x). As it morphs, we'll continually listen to it.
Soundfile 1.3, sometimes called a chirp in acoustic discussions, sweeps a sine wave over the frequency range from 0 Hz to 20,000 Hz. (Just so you know, this sonic phenomenon is not named for a bird chirp, but in fact for a radar chirp, which is a special function used in some radar work.)
The amplitude of the sine wave in Soundfile 1.13 does not change, but the perceived loudness changes as it moves through areas of greater sensitivity in the Fletcher-Munson curve (Section 1.3). In other words, how loud we perceive something to be is mostly a result of amplitude, but it is also a result of frequency. This simple example shows how complicated our perception of even these simple phenomena is.
We measure amplitude in volts, pressure, or even just sample numbers: it doesn't really matter. We just graph a function of something moving, and then if we want, we can say what its average displacement was. If it was generally a big displacement (for example, sixth graders on the trampoline), we say it has a big amplitude. If, on the other hand, things didn't move very much (say we drop a bunch of mice on the trampoline), we say that the sound function had a small amplitude.
In the real world, things vibrate and send their vibrations through some medium (usually gas) to our eardrums. When we become interested in how amplitude actually affects a medium, we speak of the intensity of a sound in the medium. This is a little more specific than discussing amplitude, which is more a purely relative term.
The medium we're usually interested in is air (at sea level, 72°F), and we measure intensity as the amount of energy in a given air unit, the cubic meter. In this case, energy (or work done) is measured in watts, and we can then measure intensity in watts per meter2 (or wm2).
As is the case with the perception of frequency as pitch, our perception of intensity as loudness is logarithmic. But what the heck does that mean? Logarithmic perception means that it takes more of a change in the amplitude to produce the same perceived change in loudness.
Bubba and You
Think of it this way. Let's say you work at a burger joint flipping burgers, and you make $8.00 an hour. Let's say your supervisor, Bubba, makes $9.00 an hour. Now let's say the burger corporation hits it big with their new broccoli sandwich, and they decide to put every employee on a monthly raise schedule.
They decide to give Bubba a dollar a month raise, and you a 7% raise each month. Bubba thinks this is great!
That means the first month you only get $8.56, and Bubba gets $10.00. The next month, Bubba gets $11.00, and you get $9.15. This means that you now got a 59¢ raise, or that your raise went up while his remained the same. The equation for your salary for any given month is:
new salary = old salary + (0.07 X old salary)
Bubba's is:
new salary = old salary + 1
You're getting an increase by a fixed ratio of your salary, which itself is increasing, while Bubba's raise/salary ratio is actually decreasing. (The first month he got 1/9, the next month 1/10—at this rate he'll approach a zero percent raise if he works at the burger place long enough.) Figure 1.13 shows what the salary raises look like as functions.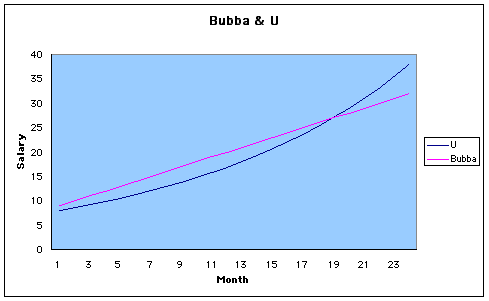 This fundamental difference between ratiometric change and fixed arithmetic change is very important. We tend to perceive most changes not in terms of absolute quantities (in this case, $1.00), but in terms of relative quantities (percentage of a quantity).
Changes in both amplitude and frequency are also perceived in terms of ratios. In the case of amplitude, we have a standard measure, called the decibel (dB), which can describe how loud a sound is perceived. As a convention, silence, which is 0 dB, is set to 10-12 wm2. This is not really silence in the absolute sense, because things are still vibrating, but it is more or less what you would hear in a very quiet recording studio with nobody making any sound. There is still air movement and other sound-producing activity. (There are rooms called anechoic chambers, used to study sound, that try to get things much quieter than 0 dB—but they're very unusual places to be.) Any change of 10 dB corresponds roughly to a doubling of perceived loudness. So, for example, going from 10 dB to 20 dB or from 12 dB to 22 dB is perceived as a doubling of perceived sound pressure level.