This adding up of partials to make a complex waveform might make sense acoustically, but in order to really understand how to add phasors from a mathematical standpoint, we first need to understand how to add vectors, or arrows.
How should we define an arithmetic of arrows? It sounds funny, but in fact it's a pretty natural generalization of what we already know about adding regular old numbers. When we add a negative number, we go backward, and when we add a positive number, we go forward.
Our regular old numbers can be thought of as arrows on a number line. Adding any two numbers, then, simply means taking the two corresponding arrows and placing them one after the other, tip to tail. The sum is then the arrow from the origin pointing to the place where "adding" the two arrows landed you.
Really, what we are doing here is thinking of numbers as vectors. They have a magnitude (length) and a direction (in this case, positive or negative, or better yet 0 radians or

radians).
Now, to add phasors, we need to enlarge our worldview and allow our arrows to get not just 2 directions, but instead a whole 2

radians worth of directions! In other words, we allow our arrows to point anywhere in the plane. We add, then, just as before: place the arrows tip to tail, and draw an arrow from the origin to the final destination.
So, to recap: to add phasors, at each instant as our phasors are spinning around, we add the two arrows. In this way, we get a new arrow spinning around (the sum) at some frequency—a new phasor. Now it's easy to see that the sum of two phasors of the same frequency yields a new phasor of the same frequency. We can also see that the sum of a cosine and sine of the same frequency is simply a phase-shifted sine of the same frequency with a new amplitude given by the square root of the sum of squares of the two original phasors. That's the Pythagorean theorem!
Sampling and Fourier Expansion

The decomposition of a complex waveform into its component phasors (which is pretty much the same as saying the decomposition of an acoustic waveform into its component partials) is called Fourier expansion.
In practice, the main thing that happens is that analog waveforms are sampled, creating a time-domain representation inside the computer. These samples are then converted (using what is called a fast Fourier transform, or FFT) into what are called Fourier coefficients.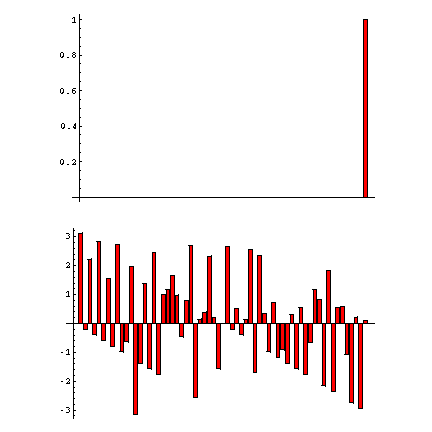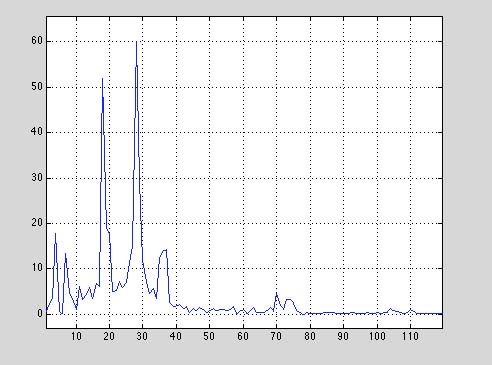 Figure 3.17 shows a common way to show timbral information, especially the way that harmonics add up to produce a waveform. However, it can be slightly confusing. By running an FFT on a small time-slice of the sound, the FFT algorithm gives us the energy in various frequency bins. (A bin is a discrete slice, or band, of the frequency spectrum. Bins are explained more fully in Section 3.4.) The x-axis (bottom axis) shows the bin numbers, and the y-axis shows the strength (energy) of each partial.
The slightly strange thing to keep in mind about these bins is that they are not based on the frequency of the sound itself, but on the sampling rate. In other words, the bins evenly divide the sampling frequency (linearly, not exponentially, which can be a problem, as we'll explain later). Also, this plot shows just a short fraction of time of the sound: to make it time-variant, we need a waterfall 3D plot, which shows frequency and amplitude information over a span of time. Although theoretically we could use the FFT data shown in Figure 3.17 in its raw form to make a lovely, synthetic gamelan sound, the complexity and idiosyncracies of the FFT itself make this a bit difficult (unless we simply use the data from the original, but that's cheating).
Figure 3.18 shows a better graphical representation of sound in the frequency domain. Time is running from front to back, height is energy, and the x-axis is frequency. This picture also takes the essentially linear FFT and shows us an exponential image of it, so that most of the "action" happens in the lower 2k, which is correct. (Remember that the FFT divides the frequency spectrum into linear, equal divisions, which is not really how we perceive sound—it's often better to graph this exponentially so that there's not as much wasted space "up top.")
The waterfall plot in Figure 3.18 is stereo, and each channel of sound has its own slightly different timbre.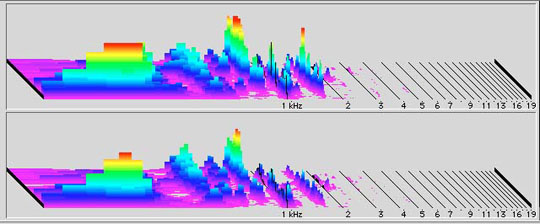 Here's a fact that will help a great deal: if the highest frequency is B times the fundamental, then you only need 2B + 1 samples to determine the Fourier coefficients. (It's easy to see that you should need at least 2B, since you are trying to get 2B pieces of information (B amplitudes and B2 phase shifts).)