A More Interesting Example
OK, now how about a more interesting example of additive synthesis? The quality of a synthesized sound can often be improved by varying its parameters (partial frequencies, amplitudes, and envelope) over time. In fact, time-variant parameters are essential for any kind of "lifelike" sound, since all naturally occurring sounds vary to some extent.
Attacks, Decays, and Time Evolution in Sounds
As we've said, additive synthesis is an important tool, and we can do a lot with it. It does, however, have its drawbacks. One serious problem is that while it's good for periodic sounds, it doesn't do as well with noisy or chaotic ones.
For instance, creating the steady-state part (the sustain) of a flute note is simple with additive synthesis (just a couple of sine waves), but creating the attack portion of the note, where there is a lot of breath noise, is nearly impossible. For that, we have to synthesize a lot of different kinds of information: noise, attack transients, and so on.
And there's a worse problem that we'd love to sweep under the old psychoacoustical rug, too, but we can't: it's great that we know so much about steady-state, periodic, Fourier-analyzable sounds, but from a cognitive and perceptual point of view, we really couldn't care less about them! The ear and brain are much more interested in things like attacks, decays, and changes over time in a sound (modulation). That's bad news for all that additive synthesis software, which doesn't handle such things very well.
That's not to say that if we play a triangle wave and a sawtooth wave, we couldn't tell them apart; we certainly could. But that really doesn't do us much good in most circumstances. If angry lions roared in square waves, and cute cuddly puppy dogs barked in triangle waves, maybe this would be useful, but we have evolved—or learned to hear attacks, decays, and other transients as being more crucial. What we need to be able to synthesize are transients, spectral evolutions, and modulations. Additive synthesis is not really the best technique for those.
Another problem is that additive synthesis is very computationally expensive. It's a lot of work to add all those sine waves together for each output sample of sound! Compared to some other synthesis methods, such as frequency modulation (FM) synthesis, additive synthesis needs lots of computing power to generate relatively simple sounds.
But despite its drawbacks, additive synthesis is conceptually simple, and it corresponds very closely to what we know about how sounds are constructed mathematically. For this reason it's been historically important in computer sound synthesis.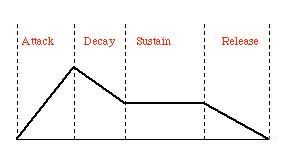 Shepard Tones
One cool use of additive synthesis is in the generation of a very interesting phenomenon called Shepard tones. Sometimes called "endless glissandi," Shepard tones are created by specially configured sets of oscillators that add their tones together to create what we might call a constantly rising tone. Certainly the Shepard tone phenomenon is one of the more interesting topics in additive synthesis.
In the 1960s, experimental psychologist Roger Shepard, along with composers James Tenney and Jean-Claude Risset, began working with a phenomenon that scientifically demonstrates an independent dimension in pitch perception called chroma, confirming the circularity of relative pitch judgments.
What circularity means is that pitch is perceived in kind of a circular way: it keeps going up until it hits an octave, and then it sort of starts over again. You might say pitch wraps around (think of a piano, where the C notes are evenly spaced all the way up and down). By chroma, we mean an aspect of pitch perception in which we group together the same pitches that are related as frequencies by multiples of 2. These are an octave apart. In other words, 55 Hz is the same chroma as 110 Hz as 220 Hz as 440 Hz as 880 Hz. It's not exactly clear whether this is "hard-wired" or learned, or ultimately how important it is, but it's an extraordinary idea and an interesting aural illusion.
We can construct such a circular series of pitches in a laboratory setting using synthesized Shepard tones. These complex tones are comprised of partials separated by octaves. They are complex tones where all the non-power-of-two numbered partials are omitted.
These tones slide gradually from the bottom of the frequency range to the top. The amplitudes of the component frequencies follow a bell-shaped spectral envelope (see Figure 4.6) with a maximum near the middle of the standard musical range. In other words, they fade in and out as they get into the most common frequency range. This creates an interesting illusion: a circular Shepard tone scale can be created that varies only in tone chroma and collapses the second dimension of tone height by combining all octaves. In other words, what you hear is a continuous pitch change through one octave, but not bigger than one octave (that's a result of the special spectra and the amplitude curve). It's kind of like a barber pole: the pitches sound as if they just go around for a while, and then they're back to where they started (even though, actually, they're continuing to rise!).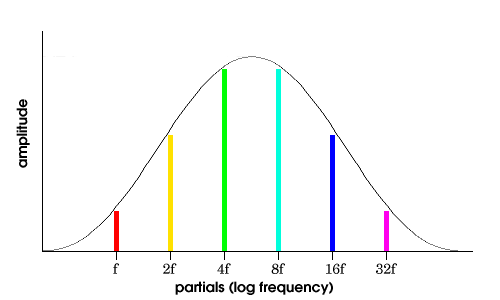 Shepard wrote a famous paper in 1964 in which he explains, to some extent, our notion of octave equivalence using this auditory illusion: a sequence of these Shepard tones that shifts only in chroma as it is played. The apparent fundamental frequency increases step by step, through repeated cycles. Listeners hear the pitch steps as climbing continuously upward, even though the pitches are actually moving only around the chroma circle. Absolute pitch height (that is, how "high" or "low" it sounds) is removed from our perception of the sequence.