An Honest-to-Goodness Computer Music Example of FM (Using Csound)
One of the most common computer languages for synthesis and sound processing is called Csound, developed by Barry Vercoe at MIT. Csound is popular because it is powerful, easy to use, public domain, and runs on a wide variety of platforms. It has become a kind of lingua franca for computer music. Csound divides the world of sound into orchestras, consisting of instruments that are essentially unit-generator designs for sounds, and scores (or note lists) that tell how long, loud, and so on a sound should be played from your orchestra.
The code in Figure 4.19 is an example of a simple FM instrument in Csound. You don't need to know what most of it means (though by now a lot of it is probably self-explanatory, like sr, which is just the sampling rate). Take a close look at the following line:
asig foscil p4*env, cpspch(p5), 1,3,2,1 ;simple FM
Commas separate the various parts of this command.
Asig is simply a name for this line of code, so we can use it later (out asig).

foscil is a predefined Csound unit generator, which is just a pair of oscillators that implement simple frequency modulation (in a compact way).

p4*env states that the amplitude of the oscillator will be multiplied by an envelope (which, as seen in Figure 4.19, is defined with the Csound linseg function).

cpspch(p5) looks to the fifth value in the score (8.00, which will be a middle C) to find what the fundamental of the sound will be. The next three values determine the carrier and modulating frequencies of the two oscillators, as well as the modulation index (we won't go into what they mean, but these values will give us a nice, sweet sound). The final value (1) points to a sine wave table (look at the first line of the score).
Yes, we know, you might be completely confused, but we thought you'd like to see a common language that actually uses some of the concepts we've been discussing!
Computer Code for an FM Instrument and a Score to Play the Instrument in Csound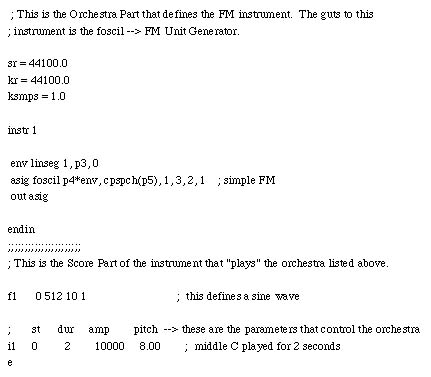 Now that you understand the basics of FM synthesis, go back to the beginning of this section and play with Applet 4.12. FM is kind of interesting theoretically, but it's far more fun and educational to just try it out.