There are lots of different kinds of functions. Sometimes functions operate by some easily specified rule, like squaring. When a number is input into a squaring function, the output is that number squared, so the input 2 produces an output of 4, the input 3 produces an output of 9, and so on. For shorthand, we'll call this function s.
s(2) = 22 = 4
s(3) = 32 = 9
s(x) = x2
The last expression is really just an abbreviation that says for any number given as input to s, the number squared is the output. If the input is x, then the output is x2.
Sometimes the input/output relation may be easy to describe, but often the actual cause and effect may be more complicated. For example, review the following function.
Assume there's a thermometer on the wall. Starting at 8 A.M., for any number t of minutes that have elapsed since 8 A.M., our function gives an output of the temperature at that time. So, for an input of 5, the output of our temperature function is the room temperature at 5 minutes after 8 A.M. The input 10 gives as output the room temperature at 10 minutes after 8 A.M., and so on.
Once again, for shorthand we can abbreviate this and call the function f.
f(5) = room temperature at 5 minutes after 8 A.M.
f(10) = room temperature at 10 minutes after 8 A.M.
f(t) = room temperature at t minutes after 8 A.M.
You can see how this temperature function is a little like our previous sound amplitude graphs. The easiest way to understand the temperature function is according to its graph, the picture that helps us visualize the function. The two axes are the input and output. If an input is some number x units from 0 and the output is f(x) units (which could be a positive or negative number), then we place a mark at f(x) units above x.
Assume the following:
f(0) = 30
f(5) = 35
f(10) = 38
Figure 1.3 shows what happens when we graph these three temperatures. (Note that we'll leave the x-axis in real time, but to be more precise we probably should have written 0, 5, and 10 there!) We'll join these marks by a straight line.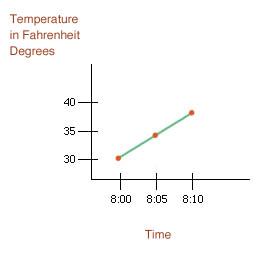 So how do we get a function out of sound or music?
A Kindergarten Example
Imagine an entire kindergarten class piled on top of a trampoline in your neighbor's backyard (yes, we know this would be dangerous!). The kids are jumping up and down like maniacs, and the surface of the trampoline is moving up and down in a way that is seemingly impossible to analyze.
Suppose that before the kids jump on the trampoline, we paint a fluorescent yellow dot on the trampoline and then ask the kids not to jump on that dot so that we can watch how it moves up and down. The surface of the trampoline is initially at rest. The class climbs on. We take a stopwatch out of our pocket and yell "Go!" while simultaneously pressing the start button. As the kids go crazy, our job is to measure at each possible instant how far the yellow dot has moved from its rest position. If the dot is above the initial position, we measure it as positive (so a displacement of 3 cm up is recorded as +3). If the displacement is below the rest position, we measure it as negative (so a displacement of 3 cm down is recorded as -3).
So follow the bouncing dot! It rises, then falls, sometimes a lot, sometimes a little, again and again. If we chart this bouncing dot on a moving piece of paper, we get the kind of function (of pressure, or deformation or perturbation) that we've been talking about.
Let's return to the idea of writing down a list of numbers corresponding to a set of times. Now we're going to turn that list into the graph of a mathematical function! We'll call that function F.
On the horizontal line (the x-axis), we mark off the equally spaced numbers 1, 2, 3, and so on. Then we mark off on the vertical axis (the y-axis) the numbers 1, 2, 3, and so on, going up, and -1, -2, -3, and so on, going down. The numbers on the x-axis stand for time, and on the y-axis the numbers represent displacement. If at time N we recorded a displacement of 4, we put a dot at 4 units above N and we say that F(N) = 4. If we recorded a displacement of -2, we put a dot at the position 2 units below N and we say F(N) = -2. Each of the values F(N) is called a sample of the function F.
We'll learn later (in Section 2.1, when we talk about sampling a waveform) that this process of "every now and then" recording the value of a displacement in time is referred to as sampling, and it's fundamental to computer music and the storage of digital data. Sampling is actually pretty simple. We regularly inspect some continuous movement and record its position. It's like watching a marathon on television: you don't really need to see the whole thing from start to finish—checking in every minute or so gives you a good sense of how the race was run.
But suppose you could take a measurement at absolutely every instant in time—that is, take these measurements continuously. That would give you a lot of numbers (infinitely many, in fact, because who's to say how small a moment in time can be?). Then you would have numbers above and below every point and get a picture something like Figures 1.1 and 1.2, which appear to be continuous.
Actually, calling these axes x and y is not so instructive. It is better to call the y-axis "amplitude" and the x-axis "time." The following examples let you play with the notion of pressures in time.